Christmas is a time for celebration and joy, but it can also be a very stressful time of year. It's easy to get caught up in all the preparations and forget about what Christmas means: spending time with loved ones and making memories.
While preparing for all those dinners and decorations, one way to make it warmer and personal is to make your own decorations. It's easy to feel overwhelmed with all the options out there, so I will share some easy DIY house work for Christmas that are simple but festive and memorable.
Every Christmas tree needs its decorations, and easy DIY decorations are a great way to personalize your tree. One easy idea is to make a garland out of dried fruits and nuts, which can be used as decoration on the tree or even for other purposes like wreaths, centerpieces, or window decorating.
Another easy DIY Christmas decoration that doesn't cost much but looks very festive is adding some red berries in between green boughs; this can be done using real berries (like holly), faux ones (like pomegranate), or both! These will give your home an extra holiday hint without requiring too much effort.
Other easy DIY decorations include making paper snowflakes with children, baking cookies shaped like Christmas trees, and building gingerbread houses together with your family.
The key to a warm and personal Christmas is not in spending but in taking some time to do things together.
This article will serve as your guide to easy DIY decorations for your Christmas tree, DIY tips that make this season more heartfelt, and other easy ideas you may not have thought of!
Easy DIY Decorations for Your Christmas Tree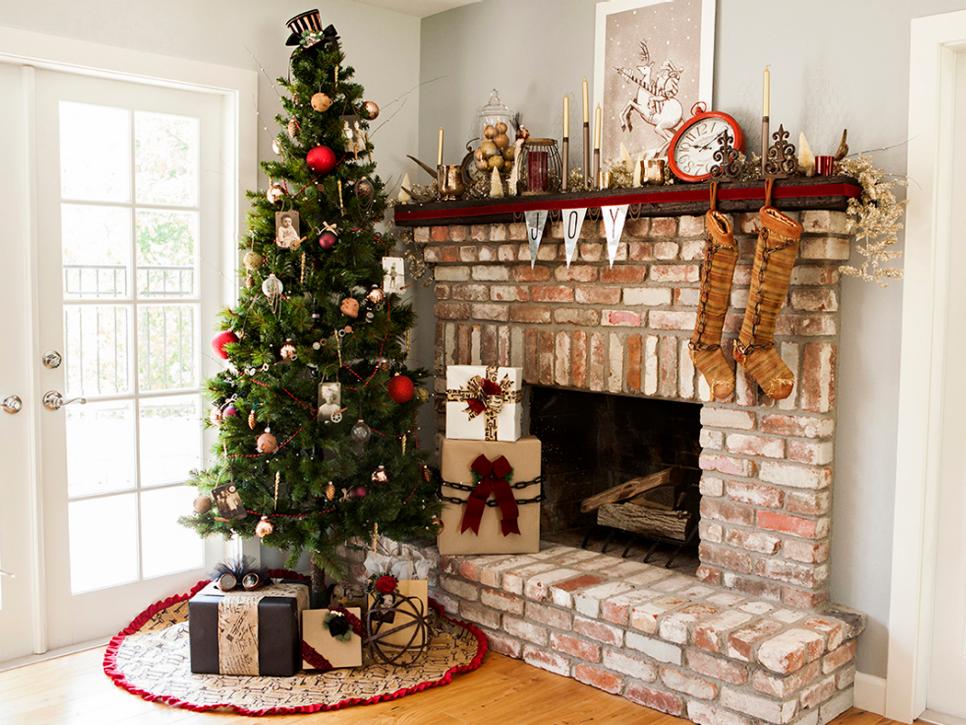 Christmas trees look better with lots of ornaments and decorations, but it'll look better with DIY decorations that make it look warmer like these easy ideas.
Pine cones: Glue pine cones to the tree in clusters or sprinkle them around the bottom of the tree.
Berries: berries can be glued on or added with wire hangers to make garlands that drape over the branches.
Cinnamon sticks: Tie cinnamon sticks together with ribbon and glue them randomly on the tree. The smell of cinnamon will fill your home and remind you of Christmas time!
Paper chains: Cut out strips of colored paper, fold them in half, and staple them together to make colorful chains that can hang from the top of the tree.
Personalized ornaments: Personalise your tree with different types of ornaments like these snowmen, which can be made from spoons and painted! Some other ideas are painting wine glasses as gift holders, cutting up old magazines as stocking stuffers for family members, creating flags out of scrapbook paper to label the presents under the tree by the person (Grandma's present is red), and using any other craft supplies that inspire you!
Christmas Cards: Christmas cards have always been popular among friends and families but it's really easy to make them more personal this year. Instead of just sending each household generic holiday wishes, why not write messages on individual pieces of cardstock and mix them into the pile of cards? Not only will your friends or family members appreciate it, but you'll feel more connected to each person as they open their message.
Christmas Table Settings: Make sure that all your guests can see who's present at dinner during Christmas time with easy DIY table settings! You can use string lights in jars for light placements, make snowflakes out of scrapbook paper for napkin rings, paint wine glasses gold (or any other color) to label drinks by person, spray paint tree branches silver to hold utensils like knives and forks, cut up old magazines for easy place cards on top of small pieces of cardstock glued onto chopsticks taped together end-to-end.
There are so many easy DIY ideas for this Christmas season, so why not give a few a try?
DIY Tips to Make Your Christmas More Personal
Christmas is always better when it's more personal, and these DIY tips will help you make your Christmas more special this year. These easy DIY ideas and tips will help you create a more personal Christmas, but they're just the beginning of easy ways to make this season special for everyone in your family.
Make a gingerbread house: This is a classic Christmas activity that the whole family can enjoy. It's easy to make and decorates the home with a delicious smell!
Create a photo album: Dig out all your old photos from Christmases past and create an album or scrapbook to look back on.
Write letters to Santa: Let your kids write letters to Santa and put them in an envelope addressed to the North Pole. They'll love receiving replies from Father Christmas!
Design your own wrapping paper: Make sure each gift has its own unique touch by designing your own wrapping paper with markers or paint. It'll be extra fun if everyone contributes their designs to the roll and wraps presents together!
Add scented candles: Scented candles can turn any room into a cozy space filled with delicious smells that remind you of the holiday spirit! Try cinnamon sticks, pine cones, gingerbread men…the possibilities are endless!
Bake cookies: baking cookies is a classic Christmas tradition that the whole family can enjoy. Choose your favorite recipe or try something new this year!
Make a gingerbread house: This is a classic Christmas activity that the whole family can enjoy. It's easy to make and decorates the home with a delicious smell!
Create a photo album: Dig out all your old photos from Christmases past and create an album or scrapbook to look back on.
Add personal touches: Get creative with how you add personal touches to your Christmas decorations and celebrations. Add handmade cards, choose a theme that reflects your personality, or set up a nativity scene.
More Tips to Make This Christmas More Personal: There are other easy tips you can incorporate into your holiday preparations like writing family members' names on the back of ornaments (so they can go with their gift) and putting together advent calendars filled with small gifts. Remember that every little detail counts when it comes to making memories during this time!
Conclusion
While Christmas is a time for family, we can't avoid preparing for all the celebrations that happen during this time of year. The easy DIY tips and ideas in this article can help you prepare for Christmas without feeling overwhelmed, so give them a try!
There are so many easy DIY ideas for this Christmas season, so why not give a few a try? From easy DIY table settings to personalized wrapping paper and more, these simple steps will help make your family's holiday special and unforgettable.
There are a lot of easy DIY tips and ideas to make your Christmas more personal this year. With a little bit of creativity, you can add special touches that will make the season more memorable for everyone in your family. From homemade wrapping paper to gingerbread houses, the possibilities are endless! So get creative and start celebrating Christmas your way!
If you're interested in buying a home that's more suitable for Christmas dinners and parties, you might be interested in checking out some home buyer tips, and if you're planning a Christmas party while a resident or a family member is working at home on a holiday, check out a few work from home tips to make things easier for everyone and to avoid a lot of misunderstandings while everyone is celebrating the Yuletide season of love and warmth.