Transforming a storage attic into a very comfortable bedroom for resting and sleeping is not the easiest of interior decorating projects. But transforming a cramped and dark attic isn't that hard. So here's your guide on how to turn an attic into a bedroom.
The first thing to do is put together a strategy to ensure that your attic bedroom gets enough light, functionality, and enough space for storage. The bones of your attic can be turned into features, before you go about adding the element of surprise.
7 Decor Tips: How to Turn an Attic Into a Bedroom
For the most part, attics are reserved for storage. But when your house is officially decluttered, why waste all that available space? 
With a little bit of clever storage installation, maybe a lovely window seat, and then some beautiful lighting, an attic space that's also a cozy bedroom can add significant value to your home.
Here are several decor tips that can help you on how to turn an attic into a bedroom.
#1 Paint slanted ceilings white
Image Credit: Closet Works
You've heard of light colors being very suitable for enclosed spaces. That's never been truer for places like your attic. 
Light paint or white paint creates that illusion and feeling of space. They reflect natural light better, and that's even better if the windows in the attic are small. 
Dark colors create that cave effect, and it can make you feel closed in. So if you're not into feeling closed-in, limit your use of dark colors to create the perfect contrast.
#2 Attractive light fixtures
If your attic ceiling is high, an attractive light fixture is a great idea. It contributes to adding more storage space. The clear your attic floor of floor lamps, and walls of sconces. Plus, an attractive overhead lighting fixture creates a lovely central feature. 
But of course, that gorgeous chandelier isn't the only option you have. Depending on how much you're willing to spend, you can even incorporate a window into a slanted ceiling.
#3 Considering bedroom storage
If your new attic bedroom is a bit on the small side, consider built-in bookshelves, closets, or drawers. Opt for thin ones and preferably ones that extend to the ceiling. Or sometimes even cover entire walls.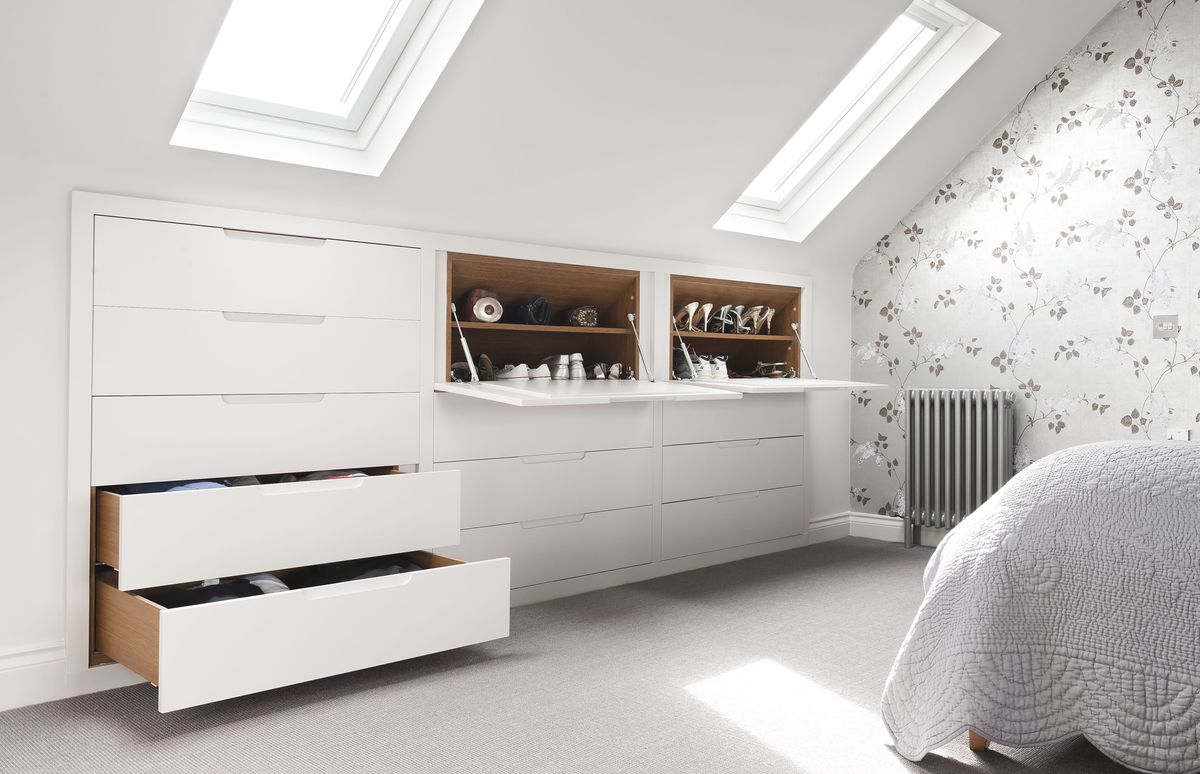 It's good because this way, you can turn an entire wall into a decoration and functional storage space at the same time.
But you should know that the more storage your room has, the more your room can feel open and uncluttered. However, make sure to disguise storage by keeping them flush against the walls, and paint the same color.
#4 Opt for minimal furniture
If your attics are small, you need to maintain that open and airy feeling. Opt for as little furniture as possible. Maybe one or two. Make sure to match furniture colors to your walls and/or floors — particularly if your walls are white or light-colored. 
This can create an attic room with a relaxed and flawless feel.
#5 Don't be afraid of texture
Florals, stripes, or plaids in small attic rooms can appear a little too fussy. However, one or two pieces like patterned bedspreads or cushions can add a little fun. And sometimes, it's also the splash of color that you need. 
Also, texture isn't always fabric. Within attics, sometimes it's an exposed chimney, or an exposed beam. Sometimes textured paints, or finishes and wallpapers.
#6 Add window seats or a seating nook
What's great about attics is that they're mostly multi-functional. You can bring a desk, a computer, a bookcase, a coffee table, a reading area etc.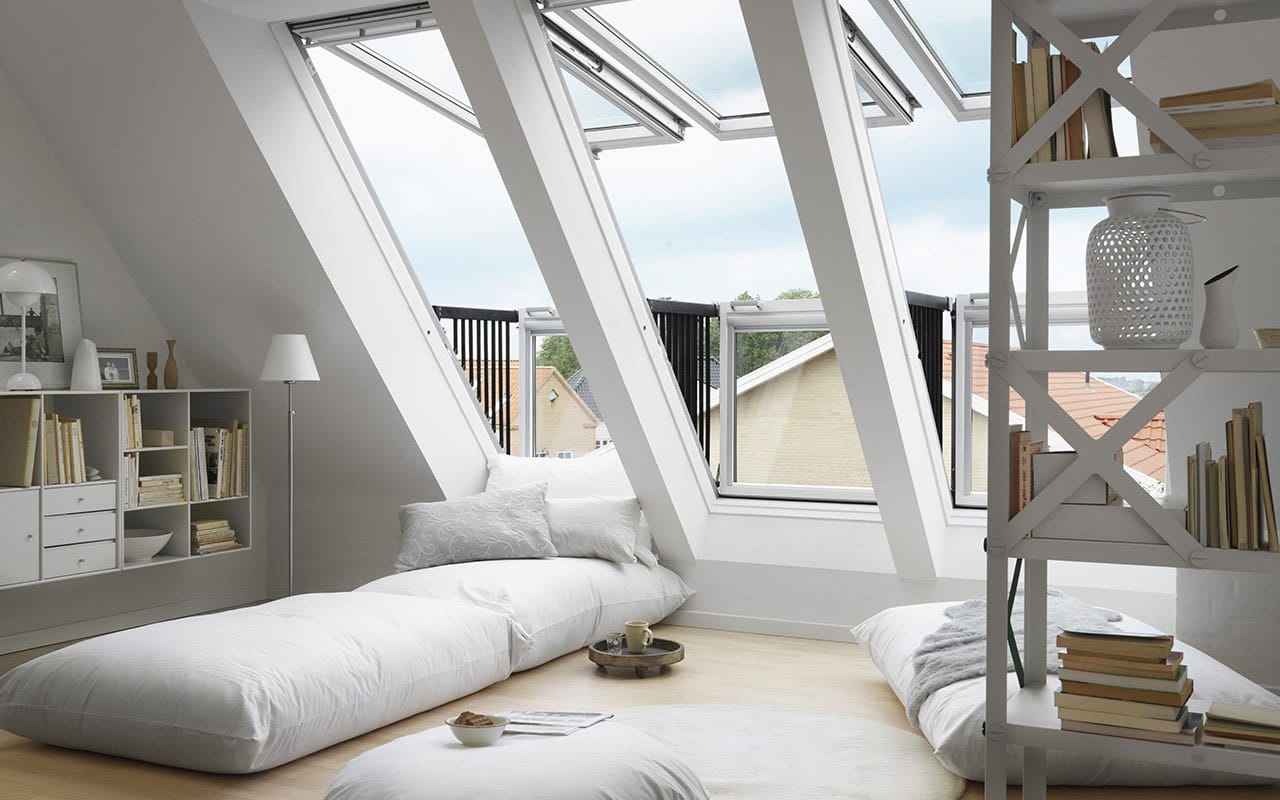 Before you even bring any furniture up there, grab a pen and paper to work out the perfect bedroom and attic crossover that you want to see. But apart from that functionality, consider adding a window seat or a reading nook — makes it cozy and it's perfect for reading, meditating, working, etc.
#7 Adding mini to small-sized art
Art is great for any room, regardless of size. And it doesn't matter if the room has no windows or has one.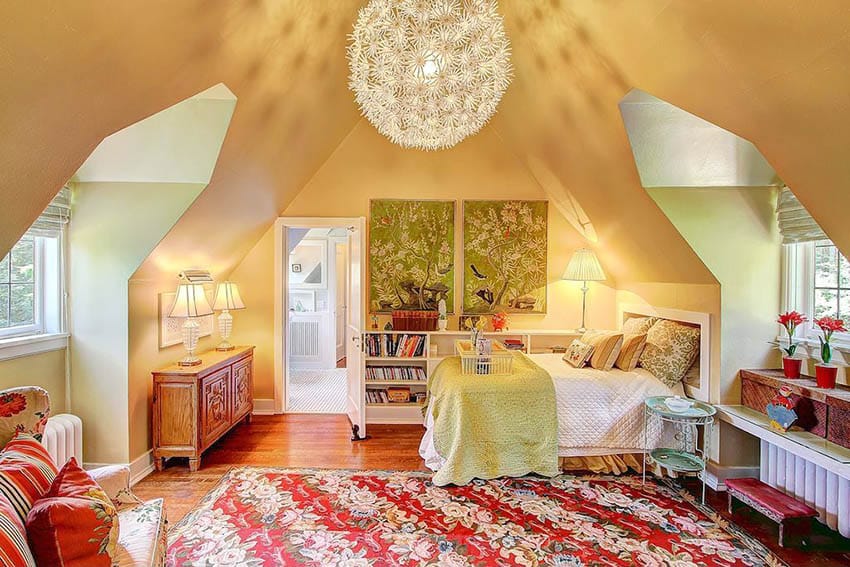 Hanging up small-sized wall art or putting together a mini-gallery wall on attic rooms help create a nice focal point on the wall, while not even taking up a lot of wall space. You can add decals on that list too, because they make for great designs.
And for windowless rooms, a nice wall art can be framed nicely to create the illusion of a window.